Galina Kukleva: "It is time to look closely at the younger sportsmen"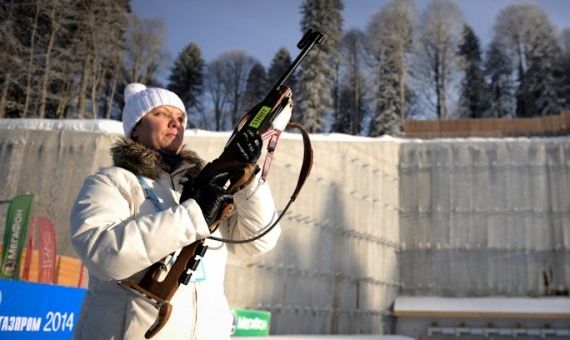 Only one week left before the start of the world championship. What should we wait from the Russian women's team at the main tournament of the season? What is the difference between German and Russian biathlon schools? How can the younger sportsmen adopt themselves easier in the national team? The Olympic champion, three-time world champion Galina Kukleva answers these questions in the interview to Elena Vaitsekhovskaya.
Galina Kukleva participated in the two Olympic Games and won the complete set of the medals: Gold (sprint in Nagano), Silver and Bronze (relay of Nagano and Salt Lake City). She also won medals in five world championships, three of them were gold.
— I am really worried for the girls — says Galina. — Of course it is hard for me to give any comments regarding their shape — I do not know their training plans. That is why I can only share my thoughts.
Unfortunately it is obvious that the team is not in the good shape. It seems that not everybody managed to digest the loads of the season, as Wolfgang Pichler planned.
— I always thought that your personal coach Leonid Guriev gives huge amounts of work.
— Yes, you are right. All the teams, which trained under Guriev's supervision worked hard. This year many of the sportsmen of my former coach show good results — Anna Bulygina, Marina Korovina, Anastasia Zagoruiko, and Alexandra Alikina. By the way, I think it is time to pay attention to Korovina — she has good results. She should be in the team; otherwise it may be too late.
— Have you discussed pro and contras of inviting Wolfgang Pichler to the women's team with your former coach?
— Yes, we did. Guriev has quite hard-line views of this situation. The Soviet school of training is one thing, and the German one is something different. Pichler is from Germany. The main difference is that we have always done morning exercises to help our bodies to wake up, and then we had training — shooting, exercises, and so on. Foreigners start their day with a hard training. We are not accustomed to another level of loads.
Our priorities for the summer training were crosses, and they prefer bicycle and roller skis. We often use jumping imitations. But as for Pichler I can say, that it is strange that his team still does not show result. He is an experienced and qualified coach. Magdalena Forsberg always had a good speed. I fought against her. Also Pichler dramatically improved the results of the Swedish team.
— Is it possible that our girls had to quickly adapt to the new things with Pichler? And this adaption was not as active as it should have been?
— It is possible. We need to take into account not only these new methods but also the training processes of the last two years, when our girls did not get the required amount of work.
— Last season the national team used some additional coaches and advisers, including those who worked in cooperation with Pichler. Have you been invited?
— No. I think the management has enough qualified specialists.
— What if he asks for your advice? What would you tell him?
— I would tell that besides the main team he needs to look closely at the younger athletes, those who will compete in two years. It is important to adapt them to new methods, loads and company, so they can feel themselves more confident. It is hard to compete without experience, especially in women's biathlon.
— What do you expect from the upcoming world championship in Ruhpolding?
— I do not believe that the women's team will change dramatically its shape comparing to what we have seen in Kontiolahti. Two weeks is not enough for some qualitative improvements, especially if we talk about functional conditions. I am not worried for shooting, all the girls are stable and confident enough in this component.