Russian team's blog. Wolfgang Pichler: "I just keep doing my job"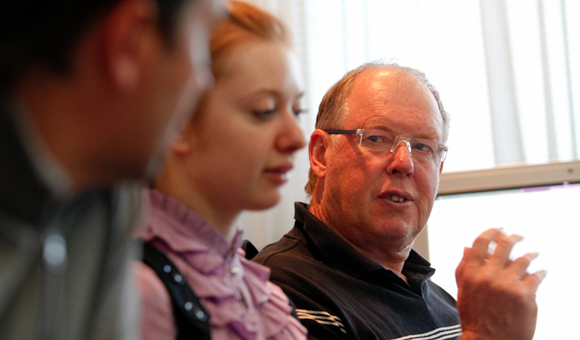 On May 4th, head coach of the women's team Wolfgang Pichler met the personal coaches of the national team's athletes. After the meeting the German coach commented on his communication with the personal coaches, talked about confidence in his work, shared his plans for the first training camp and the Champions League final in Munich.
"Hello! How are you doing after a short biathlon lull? On May 4 I visited Moscow once again – I came for a meeting with the personal coaches of the Russian national team's athletes. This was a great meeting. I am satisfied with it. It is great that we can get to know each other better and talk about our sportsmen. The contact between the team's coaches and personal coaches is necessary. I want us all to work together. We lacked this contact last season. The personal coaches need to understand how we work in the national team. And I should know individual features of every sportsman.
I know that some serious decisions are still to be made in Russia, but I just keep doing my job. We have no time to be distracted. Sometimes the decisions are made too late and we could miss a lot. We need to start working. Moreover I was sure that I would train the Russian team for the next season – the RBU's management said I would work with the team, and I fully trust these people. During the past 1,5 months I often visited Moscow – I participated in many meetings. Overall I can assess them positively. For the past few weeks I was busy making training plans and resolving issues regarding training camps. I had to forget about vacations this year. It is hard to work like this, but I am ready to do it.
The Champions League Final between Bavaria and Chelsea I will watch on TV. The final will take place close to Ruhpolding – in Munich, at the same time we will have training camp in Ruhpolding. Entire Germany is going nuts because of this final. In general I support Munich-1860, but here we talk about national prestige. That is why I will support the German club. I do not know if the girls from the national team would want to watch the match. It is better to ask them.
We will have many changes in the preparation for the next season. It is impossible to tell about it briefly. This is a topic for a prolonged discussion, which will be clear only for specialists. The first training camp in Ruhpolding will start very soon. I cannot name it rehabilitation, we will fully train during this training camp, but we will avoid high training tense during the first and second training camps, which will take place in Ruhpolding and Cyprus.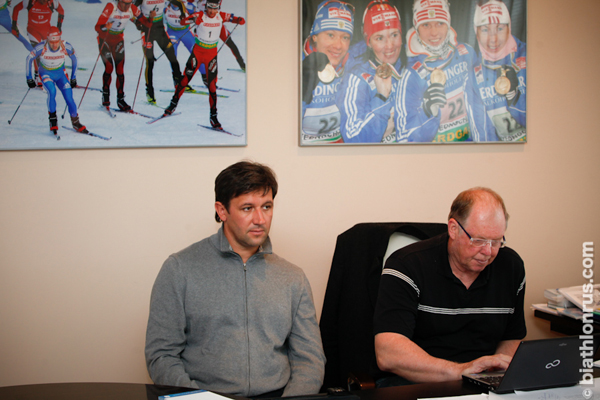 We are staring training in a difficult situation — only five biathletes out of 11 will train in Ruhpolding. Olga Zaitseva and Anna Bogaliy-Titovets will have special training individual programs. We have talked to them and their personal coaches, discussed training plans and agreed that as they are sportsmen and mothers at the same time it will be more comfortable to train individually. Olga Vilukhina will also start training alone, as she is passing exams in the University. Another three sportsmen — Svetlana Sleptsova, Ekaterina Glazyrina and Anna Bulygina are recovering after the traumas and surgeries. They will also have special programs. I count on all of these girls. They will join the team later.
Yes our beginning is hard. But we also have some advantages now – we understand better what our situations is and what our conditions are. We have an analysis of the right and wrong decisions of the past season. The sportsmen, their personal coaches and I have a good mutual understanding. If we could manage to start working in cooperation from May and continue throughout the whole year – we could have a very interesting season!"