Without rifle. Ekaterina Yurlova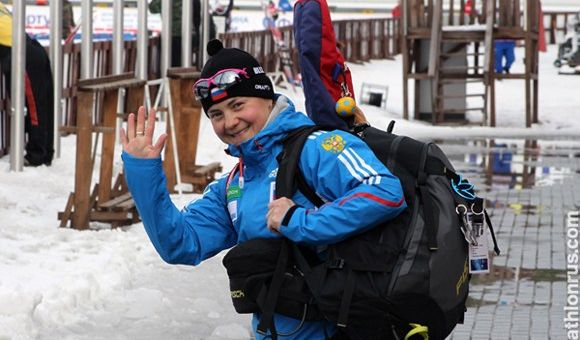 Theaters and champion match of Zenit, surfing and poetry, foreign languages and express analysis of the past season. Pavel Kopachev talked to one of the most creative biathletes of the Russian team Ekaterina Yurlova.
My vacations were quite unusual and calm. I did not go to the seaside, but stayed with my friends at home in St. Petersburg. Finally I had time to go to the theater. We watched a play with Tabakov, Zudina, Khabensky and other stars.
There is a huge difference between people acting in the cinema and on the stage. In theater all emotions and feelings are an open book. I am not a theatregoer; I do not follow all the premiers. But when I watch some play I get such a strong boost of energy.
I really want to go to ballet. Late June there will be opening of a new season in Mikhaylovskiy Theater, but there are no tickets left. And, of course, I dream of Bolshoi Theatre. People say there are long queues after a reconstruction.
I also watched football for the first time! Zenit played against Dinamo – the match where Zenit won its champion title. It was very amusing – full Petrovskiy, amazing atmosphere. When you watch football on TV you always think that playing field is huge and stands are far. But when you watch it life everything is vise-versa: here is Shirokov and there are Denisov and Arshavin, Malafeev is keeping the goal. And every pass is literally heading your direction.
I followed the Euro-2012 championship. It was interesting. Of course I was disappointed by Russia – such a nice beginning and frustrating loss to Greece.
During vacations I simply walked around the center of St. Petersburg, explored rivers and channels from boat. It was sunny in April. Cafes and restaurants. I like everything Italian – especially pasta Carbonara. At home I cook rarely – maybe because I am seldom here:)
There is no special diet in biathlon. Every sportsman looks after his or her weight. Nutrition is either protein or carbohydrate – it depends on the working loads, number of training and competitions. I try to eat more fruits, vitamins.
My memorable vacation was in Portugal. This is probably the most archaic European country. People are open and friendly there, they cherish traditions. I also liked the countries of Benelux – they have a beautiful architecture. It would be also great to see Japan. I was attracted by the East since childhood.
I do not bring something special from my trips, maybe just a standard set — magnets, photographs. The main thing is impression. I am also not so well in prearranged shopping. Usually, when I want to buy something I could not find it, but spontaneously everything works out smoothly.
I like reading. But lately I do not have so much time for good books. I read some technical books, and only when I need it.
I am not too good in English. It is far from being perfect. But I can talk in English. I think that most of the girls from the team understand foreign languages. They are just shy to talk. Wolfgang explains everything well in German. Overall we do not need any translations. I try to answer in German, but sometimes it does not work. My vocabulary is too short. Wolfgang can say "Good morning", "Good", "Bad" in Russian. Some simple words.
In Cyprus Yana Romanova and I tried surfing. We took lessons from instructor. In this off-season our training starts either in early morning or in late evening. We try to skip a period of active sun. So, we had some free time in the midday. What can I say about surfing – it was not too successful for me in the beginning, but by the end of the third lesson I could stand on the board.
The last season was not successful for me. However I am trying to find reasons in myself. Of course it is easy to say that it is coaches' fault, but… is it right? In sport we have victories and failures. It is important to make right conclusions. There were many little things that influenced the final result. I hope the coaches will come up with some idea. We have an individual approach in the team. We will talk, correct and change something if we need it.
In my spare time I sleep, it is true. I do not want to do anything, even to write poems. Enspiration visited me last time when we were at the airplane. It was a birthday of Nikolay Zagurskiy. I dedicated a poem to him. Later he said he had dreamed about it:)
What do I want from the next season? I want to participate in the world championship. I want to get back to the level when I stably finished in top-10 at the world cups. Let it be my minimal task.