Without Rifle. Natalia Sorokina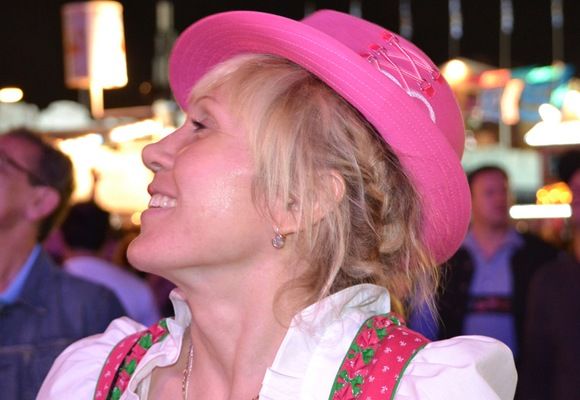 Medalist of two world championships Natalia Sorokina is preparing for a new season with the team of Mordovia. Pavel Kopachev interviewed the most communicative Russian biathlete and asked her about everything — transition difficulties, Pichler's trainings and Facebook activity.
Plaster, Mordovia and emotions
What am I doing now? I am having a rehabilitation course, and train simultaneously. The injury, I had in June, of course, knocked me out of the rhythm. I just started training and had to stop almost for the whole month. It all happened in Moscow during the cycle training – one unfortunate move and I broke an ankle ligaments. After that, I had a plaster and rehabilitation in hospital, and then I started doing some special exercises. Now I feel much better.
I think I started training too early. Probably I should have had rest for a little bit longer. Last year we had a hard program. May be I lack a proper rehabilitation. From now, I will have to work on express program. I need to be in shape for a Russian summer championship.
Starting from a new season, I will compete not only for St. Petersburg but also for Mordovia. This is very important for me. It so happened that I was left on self-training. There is an Olympic Games ahead. I need to show a good result to come back to the national team. Of course, working conditions play a significant role here. I cannot say, that there are no good training conditions in St.Petersburg, but in Mordovia they are much better.
I am glad that now I can train without any problems. I cannot say that self-training bothered me, but in training, it is very important to have someone close to you. Sportsman cannot be on his own – it is important to look at other sportsmen, to compare yourself with them. It is not possible to assess your conditions without a proper guide in shooting, running, and so on.
For me it is easier to train in Mordovia than with the national team. The girls in A team compete even at the training sessions. On the one hand, it is right, because everyone tries to keep up. On the other hand – you do not pay attention to many nuances. For example with Pichler we often trained in pairs. Some girls worked with a pulse of 150, and others with 120. The working modes are different, but you cannot drop behind. You do not always work with the tempo, which is convenient for your body.
Sea, elephants and beach
My husband and I had vacations in Pattaya, the same place where Anton Shipulin and Dmitry Malyshko have been. I read their interview and mentally got back to Thailand. It interesting that we have not met each other there. Our vacations were great – we spent two weeks lying on the beach, taking sun bathes and swimming in the warm sea. I like such a relaxed rest. My maximum is "banana-ride". I get back to life usually by the evening – restaurants, disco. In this sense, Thailand is nice: there are many Russians – you can even feel yourself being in Sochi.
I was even a little bit upset that we were short on time. I would love to go rafting, or explore Buddhist temples, waterfalls, and Monkey Park. People say that elephants can make massage with their snouts – it should be fun! We definitely need to go to Thailand one more time and try everything. It is a nice place; I can recommend it to everyone.
I knew you would ask about Facebook. I like to talk to people there. It is live, interesting and free. I add almost everyone to my friends. I use social networks in the evening for relaxation – I read, write, laugh and after that I am ready to sleep:)
Pichler, loads and unfamiliar trainings
When Pichler came, he said right away that we were preparing for the next 3 years. Of course, I did not expect the past season to be that bad. However, I sincerely hoped that the coaches would give me one more chance. It is difficult to make right conclusions after just one season: every sportsman deserves to be trusted. Yes, it pains me. All the girls who started training with the team last season are worth training with the A team this year. If it would not work this year, then, of course, I would leave without any questions.
I can say what I really liked in training with Pichler. There is no bustle. Even if one training sessions is divided into three parts – no one fusses between exercises, everything is quietly and measured. We trusted Wolfgang – probably for the first time after a long time we accepted head coach so cordially.
Everything was new: new methods, new tracks. We spent all time between training camps in Ruhpolding, as there were no tracks like this in St. Petersburg. Now I realize that probably we overdid it. It would be better to go home, to switch over.
Of course, I was disappointed with the result. However, thinking of it a year later I understand that everything was right. Perhaps we need time to get a result. Helena Ekholm, for example, did not run fast and win a Crystal Globe right away – she spent three years among average athletes. Another thing is that people are not accustomed to waiting in Russia.
All those talks that Pichler overloaded the team… do not listen to this. With Polkhovsky we also trained hard. May be just between training camps we trained less intensively. I thought that my experienced body, which is used to big loads, would digest new trainings fast. Perhaps, unfamiliar work was not immediately stored in the muscles memory. Alas…
You get used to everything: Polkhovskiy's training, exercises of Pichler, and self-training. It is important to feel your body, and to trust in your strength. There are no specialists, who offer mini-loads, and there are no national teams training in express regime. All teams are trying hard to be better.
Instead of P.S.
I went through so many things in my life… Nothing scares me. Sometimes I even think that when everything is running smoothly, nothing works out. This is who I am. I always find difficulties and adventures for myself:)
My goal is clear. Despite the injuries and late start of the training, I will try to get to the first stages of the world cup. I really want to come back. I miss big biathlon.
You know, I am an optimist in life. I never lose heart. And I think that all tests are sent to us for a reason. It is important not to break down and go through them decently.