Great Games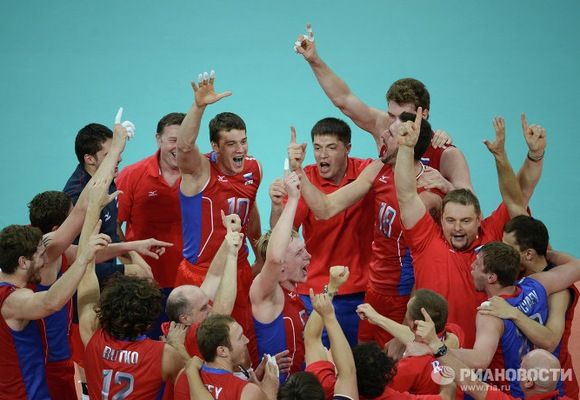 Celebrating the victory of the Russian men's volleyball team with the whole country, Biathlonrus.com realized that even despite the fact that the national team finished in overall standings at the 4th place, in the course of the Olympics our team gave many reasons to be proud of its sportsmen! The Russian Biathlon Union thanks the national team for the minutes of joy and pride and congratulates champions and medalists, their relatives, coaches, specialists, managers and fans – everybody who went through the Olympic marathon with the Olympic team!
Led by foreign coach Ezio Gamba the Russian judo team won three gold medals for the first time in its history.
Mother of two children Olga Zabelinskaya won two bronze medals.
Aliya Mustafina won four medals in London. Her victory in the uneven bars final is the first Gold for Russian in artistic gymnastic starting from 2000.
Ilya Zakharov left no chances for his competitors in the Men's 3 metre springboard. Russians have not won Gold in this sport starting from the Olympics 2000.
Russian Andrey Grechin, Nikita Lobintsev, Vladimir Morozov and Danila Izotov took bronze in 4 x 100 metre freestyle relay. Evgeny Korotyshkin and Anastasia Zueva won silver medals in swimming pool, Yuliya Efimova – bronze.
For the first time in Russian badminton history duet Nina Vislova/Valeria Sorokina won Olympic Bronze.
Race walkers Elena Lashmanova and Sergey Kirdyapkin walked to the gold medals of London. Olga Kaniskina won Silver.
Russian weightlifters won six medals. Svetlana Tsarukaeva took Silver in 63 kg event.
Maria Savinova ran 800 meters faster than all other competitors did.
Russians were great in high jumping with Anna Chicherova and Ivan Ukhov winning the first places.
In the relay 4×400 metre the Russian team places second. Overall Russian track and field athletes won 18 medals, 8 of them were gold.
In Synchronized swimming, Russian girls won two gold medals out of two possible.
Alexander Dyachenko and Yury Postrigay won Men's K-2 200 metres.
Egor Mekhontsev is the best boxer under 81 kg. Russian boxers won five medals in London.
Maria Sharapova placed second, losing in final to Serena Williams. Maria Kirilenko and Nadezhda Petrova won medal in Women's Doubles (the first medal ever for Russia).
The same as four years ago in Beijing Evgenia Kanaeva was perfect in rhythmic gymnastics.
Young Natalia Vorobieva won gold in wrestling against the five-time world champion from Bulgaria. Overall Russian wrestlers won four gold medals.
For the first time since 1988 Russian basketball team won a medal of Olympics. Kirilenko and co defeated Argentina in the match for the third place.
Russian volleyball team took Olympic Gold for the first time since 1980, winning over Brazil in the final. Gold finish of the Olympics!