Without rifle. Anna Bulygina: "I do have a motivation!"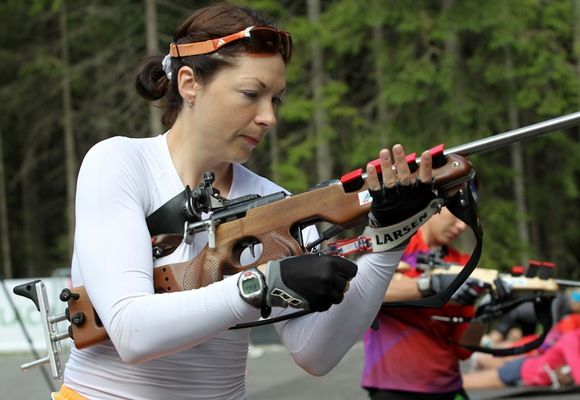 On the eve of another training camp of the women's team, the official site of the Russian Biathlon Union publishes an interview with one of the most mysterious souls of the national team – Anna Bulygina. This season Anna trains under the watchful gaze of head coach Wolfgang Pichler. In her interview to Biathlonrus.com Anna is overcautious and asks not to anticipate the plans for comeback to the biathlon elite, but stresses that she is motivated for "puffing" at training sessions.
Psychology, past season, feelings
I managed to rehabilitate psychologically during the time I had before the trainings start. I have done nothing extraordinary. I went to Salekhard to see my parents. It is my native town in Yamalo-Nenets Autonomous Okrug. I just spent some time with close people.
I would rate the past season with 3+ (out of 5). It was not easy for me. It is hard to rehabilitate after some failures. I won two races at the IBU cups and finished two times in top-20 at the World cup in Holmenkollen. Of course, my finish in top-20 at the World cup was more important for me in terms of evaluating my current level.
I feel more or less okay now. First couple of months of the summer was always hard for me. That is why I think that everything goes according to the plan. I do not want to make any forecasts.
Pichler, doubts, adaptation
I hesitated for a long time before accepting the invitation of Wolfgang Pichler. It took me almost a whole year. I talked to the girls that trained in his team, and analyzed their results in the season. That is how I got an overall picture of him.
It is unacceptable to compare different methodologies. Therefore, I do not know what to answer when people ask me to compare methods of Wolfgang Pichler and Leonid Guriev. Coaching techniques are aiming the same goal – achieving results, but they are all different.
It is in human nature to adjust to everything new. One can work well together with almost every coach, adjust and adapt to him or her. It is important to understand what your coach wants from you. We have had few training camps with Pichler. It is too early to evaluate our joint work. I think some conclusions can be made throughout the season and even better after it. Although it happens that some methods reveal sportsman abilities only for a second season.
People, biathlon friendship
In the team, I communicate to everybody the same way. We have no division on the regional basis. It does not matter from which region the girl is, from Tyumen or not – we all communicate the same way.
Is friendship between biathletes possible? Yes, friendship between biathletes is possible.
Ruhpolding, needlework, poems
It does not matter where to train – everywhere it is hard – whether in Russia or abroad. However, in some places in Russia, I have trained so many times that it is starting to get boring. This summer I had first training camp in Ruhpolding. Everything is new, and training gets more interesting. Perhaps that is some kind of emotional release. Overall, all training sessions are hard, no matter where you are — in Ruhpolding or Tyumen, Toblach or Uvat. It does not matter where you need to "puff" (smiles).
I get tired so much at the training sessions that there is almost no variety in my free time. It is nice when I get time to read something. Usually I read books suggested by others, or find something by myself. I like Akunin, for example. I also try to talk to my relatives and friends via internet. As before, I embroider pictures. If result is nice, I keep it at home.
I have not written new poems for birthdays yet, as I have no inspiration. Probably it should come from inside. It is impossible to do it by order.
Goals, motivation
It is too early to talk about goals for the season. I have no definite aim that can be described in certain results. Although I have a major goal – I want to participate in the World cup, to perform well there. However, now it is hard to talk about how it will all happen. The preparation period is in full swing.
A year and a half is left before the Olympics in Sochi. I do not remember my emotions and condition one and a half year before the Games in Vancouver. Emotions after that Olympics overlapped everything else. Other feelings and strong emotions erased from memory those emotions I had before Vancouver.
It definitely makes sense to "puff" at training sessions. Not for pleasure – that is for sure. This is a matter of principle now. I make compulsory decisions and emotions (make emotions — nel'zia). My motivation comes from Sochi. I am motivated! There is no doubt.