Mikhail Tkachenko: "I enjoy working with the youth team. The boys' eyes blazed with passion"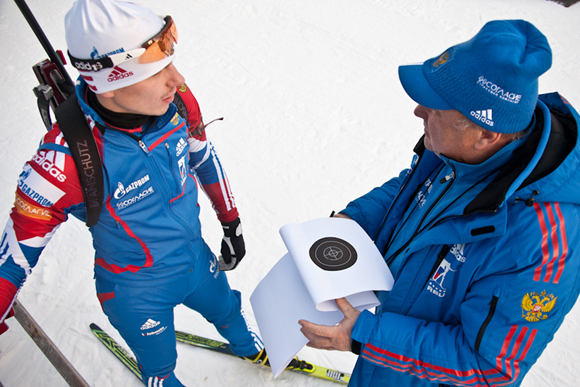 This year Mikhail Tkachenko is back to the Russian team – not the main one, but the youth team. Specially for Biathlonrus.com Pavel Kopachev talked to the coach, who reconsidered a lot over the past 1,5 years and became even more diplomatic.
— Mikhail, how the team met you one year later?
— Wonderful. Just like, I have never left.
— One might say that you had a downshifting – from the main team to the youth one.
— I would not say so. We, coaches, understand that the role of the head or senior coach is not assigned for someone forever. This is not a gift, it is an exhausting work. Without a right for a mistake. I experienced that.
I can say that I enjoy working with the B team. And last year I was not bored at all in the region. The main thing is to find a motivation, stimulus. Of course, you get used to the comfortable conditions you have in the main team. It is nice to be surrounded by comfort; you do not need to think about the tickets, hotels, additional ammunition…
— How do you like to work with the youth team?
— I work with the young and interesting boys. Their eyes blazed with passion. And I started to become more passionate. We have so many talents in the team – Pechyonkin, Klyachin, Popov, Bocharnikov, Vasilyev, Burtasov, Boyarskikh, Zhirniy… I need to work on all of them, to make great sportsmen from them – this is my mission. We, old coaches, do not have much time left to work with the sportsmen – we need to give them our best.
— And to teach boys how to make it from the junior level to the senior.
— This is a huge problem. You need to understand that it is all about psychology. Even the most talented biathletes can be lost at the world cups.
— But what about Boe, Fourcade, Landertinger? They made themselves known very early.
— I agree. But let us take Boe – the coaches believed in him and took him to the first team. It is hardly possible in Russia. We have a stronger competition. We have more biathletes in Russia than in Norway or France.
We can give the younger boys a chance right now. But from the other side – they should beat the national team members at first.
— Do you always protect your sportsmen? I remember that you never said anything bad about any of the sportsmen.
-I like dialog. Why should I criticize the sportsmen after the race, when emotions are high? I will continue working with them later. We are one team. And I will get it all back later.
— There is an unpublished rule in biathlon: "How you train in summer, such a result you get in winter." Is it impossible to change anything in the season?
— It is very hard. If your training loads are not high enough, you cannot make any cardinal changes in season. Another case is when the sportsmen overtrained, then you just take a break, and after that the results are getting better.
— Why do Neuner, Svendsen, Fourcade and Boe always have the best form by the main starts of the season? And our team cannot show their best when it is necessary?
— I would not divide sportsmen for ours and foreign. There are many factors. And we, coaches, always think about it. For example, do you remember Svendsen or Fourcade being sick? I cannot remember them being out of play for a long time. Last season Boe got the virus and he simultaneously lost his former lightness.
— But not all of our sportsmen get sick. Maybe the problem is deeper.
— I think we also have other factors: frequent change of coaches, psychology. Perhaps our sportsmen need more time to fulfill themselves. Some sportsmen can show great results when they are 22, and the others at 32. We have experienced Tcherezov, Chudov, Ustyugov, Makoveev, Shipulin in the team. I think that Volkov should finally "shoot". Garanichev, Lapshin, Malyshko have also gained some experience at the world cups. I think it is time.
— After such a serious trauma, as Tcherezov had, it is hard to come back.
— I believe in him. He is a talent and fighter. I think he will make it step by step. There is no reason to force his training. He still has time before the Olympics.
— What about the relay at the World championship 2011. You did not include Chudov to the relay quartet. He was upset, and wrote that you did not believe in him. This summer you trained Maxim. Your diplomacy again?
— I have never doubted Chudov, not even for a second. He is a great sportsman. But back then, we, coaches, decided that there were sportsmen that were in the better shape. I told it to Maxim. It is obvious that he is ambitious. But who is responsible for the result? Coaches! We chose four out of six great sportsmen.
I was happy to help Max to get back to biathlon. He will make it. I talked to him many times: he grew up, became stronger. Earlier he had only one problem: he wanted to have everything fast, to correct himself fast. But it is important to distance from your problems sometimes. I feel that he has changed, became wiser.
— The B teams often copy the training plans from the main team. Do you discuss the plans with Lopukhov and Gerbulov?
— Of course, we talk. We share our plans and results. However, you can get the same plans, but every coach will add something from himself, part of his soul. Medvedtsev would add his experience, Padin – his.
— Why did you come back to the team witout Medvedtsev? Many people saw you as a tandem.
— Valery's priority now is his family. Working in Krasnoyarsk he can spend more time with the wife and children. The schedule of the national team is not so comfortable. We travel, travel and travel. I think he will come back soon. As far as I am concerned, he got the invitations to the team last year and this year.
— Six months ago, I talked to Medvedtsev and he shared his thoughts that international coaches are younger. France, German, the USA have the yesterday's sportsmen working as the coaches.
— Those, who have more passion, right? I agree. We need to give chances to the younger coaches. The national team is a special team. You cannot simply train here. You need to understand medicine, biochemistry, psychology. There are many nuances.
We have a great reserve: Rostovtsev, Medvedtsev, Padin… We will try our best to save this continuity. I will always support Russian coaches.