Wolfgang Pichler: "We keep fighting for medals and do not decline our demands"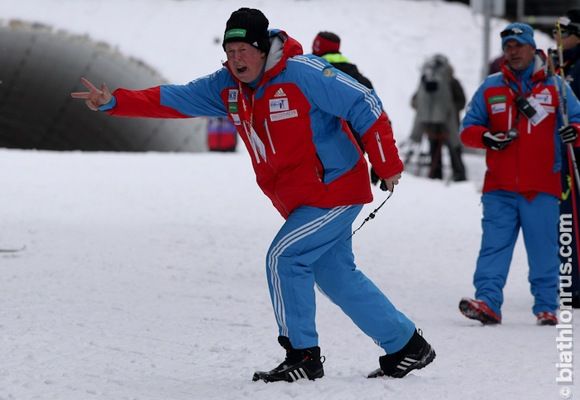 Press conference of the Russian team took place in Czech Nove Mesto on February 11. Representatives of the leading Russian Media talked to the sportsmen and coaches of the national team. Biathlonrus.com summarized the words of head coach of the women's team Wolfgang Pichler about the first part of the championship. Adherence of Pichler to his medal plans, good preparation of the team and its bad luck, arrival of Zagoruiko and absence of Sleptsova are in the Russian team's blog.
"We are satisfied with the team's conditions. In a year, we will have the Olympic Games in Sochi – we did everything right preparing to Nove Mesto. Of course, we are upset that we have not won medals yet at the world championship in Nove Mesto. In all three races, we were among pretenders for medals. But we lost medal in the mixed relay, in the sprint Olga Zaitseva finished few seconds off the pedestal, and in the pursuit happened that incident with Ann Kristin Flatland and fall, that took the medal away.
The team is in good conditions now – you know it. I noticed that there is less criticism. I think that we surprised everyone. The way we worked this season — we will also use it next year. Of course, there will be changes taking into account the altitude of Sochi. We plan to add some training camps in mountains. The Olympics in Sochi is the main goal for us.
Anastasia Zagoruiko has joined the team. We have not planed Ekaterina Glazyrina for the individual race, but she is in good shape – she was fast and had zero mistakes in the pursuit. It would be unfair if Svetlana Sleptsova were in the team instead of Anastasia Zagoruiko. Nastya was stronger than Sveta at the IBU cup – there is a sport principle. As for Sleptsova, I want to protect her. If she runs the race now, she could fail because of the pressure of responsibility and advances she would get. I think that Sveta is one of the possible participants in the Olympic Games 2014. Yes, this season is difficult for her, but I want to save her. She is in Russia now, training in Ufa. After that, she will join the team in Sochi.
The entire team will skip the world up in Holmenkollen. The reserve team of Guriev will participate in that world cup. The national team will have a training camp in Sochi. Talented junior Olga Podchufarova will also go to Sochi. We wanted to see her in Nove Mesto, but she felt seek and went back home to recover.
We continue training according to the plan. Before this championship, we planned to win three medals here. I do not renounce my words – the plan is the same. We will keep fighting. One needs to be fool to decline his demands in the middle of the championship. We will continue fighting for medals!"