Voice from the Czech Republic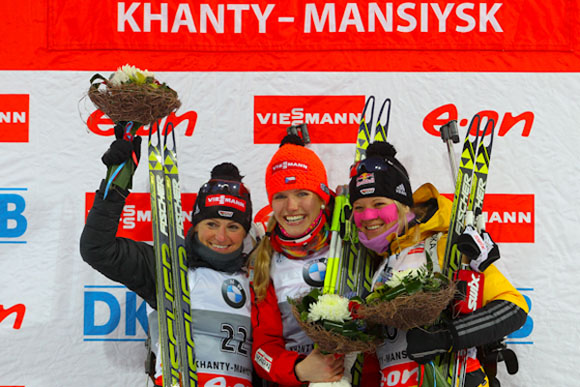 Czech beauty Gabriela Soukalova won the last women's sprint of this season. Olga Vilukhina finished fourth, losing also to German girls Henkel and Gossner. Czech biathlete-singer Gabi, positive Olga, fast Kaisa and Siberian spring are in the photo story from Khanty-Mansiysk.
News of the day – Gabriela Soukalova won the sprint race in Khanty-Mansiysk
Gabriela Soukalova won the sprint race at the last World cup this season. Accurate shooting and fourth course time secured the victory at the season's finish for the beautiful Czech sportsman. It was her second victory in the season and carrier. There are two more races, where Soukalova can work on her statistics.
Hero of the day – Olga Vilukhina
With no doubts, Olga Vilukhina became a hero of the day in the Russian team. She lacked only one step to be on the podium. "I have a great mood today, I was not even worried. I was concentrated and well set for the race. When I ran I saw my personal supporters from my fan-club. It was great! The weather is nice here, despite the cold temperature," said Olga after the finish.
Speed of the day – Kaisa Makarainen
Finnish Kaisa Makarainen was the fastest on the track, however, two mistakes in shooting did not let her to finish in the top-3. The result is the sixth place and plush mammoth as a present:)
Shooting of the day – Olga Vilukhina
Olga had one miss at the prone shooting, but she was the fastest at the shooting range.
Song of the day – "Summer time" performed by Gabriela Soukalova
Winner of the sprint demonstrated that the talented person has talents for everything and sang a verse from the world famous aria of George Gershwin at the press-conference. Bravo, Gabriela! Producers of the TV–shows should pay attention to the Czech biathlete.
Comment of the day – Olga Podchufarova: "Siberian frost is better than warm weather in Sochi"
Olga said that she like to perform in Khanty-Mansiysk better than in Sochi. Our junior athlete likes Siberian frost much better than above-zero temperatures of subtropics.
Photo of the day
Spring in Khanty-Mansiysk has fantastic forms sometimes:)
Fans of the day
Real Russian women are not afraid of real frost!