Open space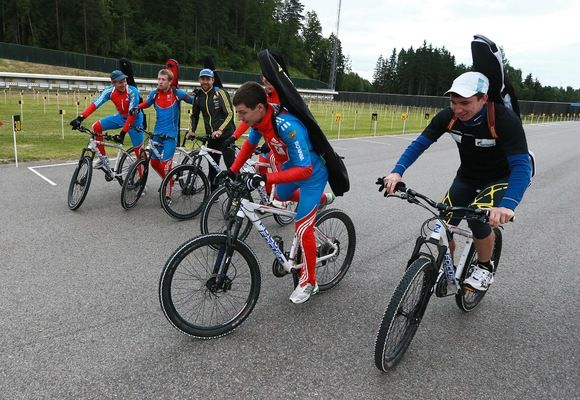 Elegant imitation of skiing on polished boards and a two-hour hiking tour, ruse of journalists and sports functionaries on the bar – yesterday the Russian men's biathlon team received visitors in Otepaa. Check the pictures from the open training of the team of Lopukhov and get the bonus video in special report of Biathlonrus.com
Open trainings of the Russian team this season became the only possible, but, as it turned out, a very convenient way of communication between sportsmen and journalists. The training day, which coaches of the men's squad chose to be open for visitors, was very eventful. In the first half of the day, the team worked at the shooting range, on special boards, which allow imitating skiing movements, and spent several hours on the hill Munamagi. After lunch, athletes had roller skiing and power training. Guests of the training camp liked such a diversity – it was a perfect deal for taking different photos and videos. Given the fact, that athletes were available for communication in their spare time, journalists even got enough time to write several unhurried interviews.
The press-team was small but bold: two federal channels, newspaper "Sport-express" and representatives of the R-Sport agency. The day before sportsmen made jokes, that it would be hard for journalists to follow sportsmen on the steep ascents of Munagami. One needs to have a good physical shape for it! The journalists solved this problem using their minds, not force:) After climbing once to the top of the hill in the company of head coach Nikolay Lopukhov journalists dislocated comfortably and watched sportsmen running up and down.
After a walk in Estonian hills, the company moved to the field in front of the sportsmen's hotel, where the team was busy imitating skiing. Simple tool – a smooth polished board – has been used for many years by skaters. Athletes wear thick socks above their shoes and slip, imitating professional movements. A monotonous spectacle, but elegant work.
After hiking, journalists did not risk to join sportsmen in their trip on roller-skis. Especially after the coaches' kind proposal to drive operators and photographers through the route of sportsmen. The photos taken are great.
At the power training, the team had more of unusual guests – Deputy Minister of Sports Yuri Nagornykh, and head of the Center for Sports Training Alexander Kravtsov arrived to Otepaa on a working visit, while CEO of the RBU Sergey Kushchenko invited an exclusive quest – president of the Cross Country Ski Federation Elena Vyalbe, whose team also trains in Otepaa these days. Three-time Olympic champion Elena Vyalbe used to be coached by the current coach of the biathlon men's team Nikolay Lopukhov. However, there were more talks about the future rather than the past. After long conversations the leaders of federations and the functionaries decided to work in tandem this Olympic season: to share methods, findings and ideas. In general, anything that can help to improve results in Sochi.
There is a special atmosphere in the team and around it this year – everyone tries to do everything possible for good results in Sochi. While skiers and biathletes were communicating, the head of the CST Alexander Kravtsov became a sparring-partner for Olympic champion Evgeny Ustyugov on the bar! Any help is useful – signed document or funny joke at the training camp:)