Vladimir Korolkevich: "I started in biathlon and want to finish my carrier in it"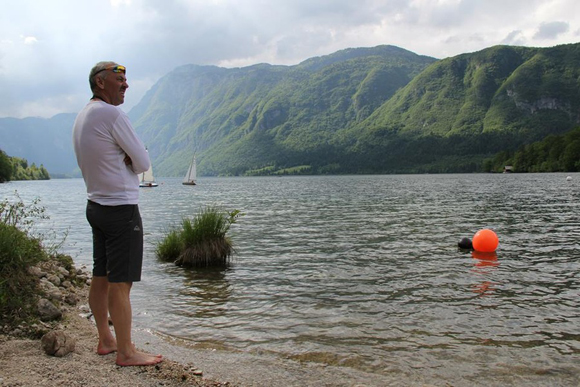 European mentality, ability to bring new features into routine training, ability to listen to athletes and to compromise for the sake of results are the most popular characteristics of a new coach of the Russian women's team Vladimir Korolkevich. In the frank interview to Biathlonrus.com, the coach talks about his moving from the USSR to Yugoslavia, transfer to cross-country skiing, comeback to biathlon, and the reasons of moderate performance of Ukrainian team in Sochi.
Vladimir Borisovich, was an offer of the RBU to join the coaching staff of the women's team unexpected for you? How long did it take you to make this decision?
I got the offer in April from Valery Polkhovsky, as it was quite clear, that he would also join in the work. I told him I needed time to think. I was given a week. Overall, it lasted for about ten days after which we found a common denominator.
Did you have any doubts?
There were no doubts. We had a parol contract with the Ukrainian federation, with no documents. Two years ago, I came to the team to work with the women's squad until the Olympic Games. It was unofficial condition, and I was not obliged to anything. I got accustomed to the team quickly, and it was difficult to leave it. This year we went through the tough times. The beginning of season was hard for the girls and me, later the situation became better, and the season was not bad. After such season and five medals at the world championships, it was hard to announce my leave.
Did the girls ask you to stay?
Of course… (pause) we had such conversations too. But my decision to become a coach of the Russian women's team was quick. There is an important moment – when Valery Polkhovsky was a head coach of the women's team he invited me, but back then I had an unpleasant personal circumstances. Before I left the Slovenian team I asked the national federation to check my pension money, it turned out that during my work there (12 years) they had not done a single transaction. I had to take legal action against them, and this story lasted for another three years. If I had taken the offer of Polkhovsky, then I would have never won the case.
Accepting the invitation from the RBU, did not you think that the decision to split the team into two groups was strange?
No, I knew we would have two groups – one Pichler's and one mine, and we would have a head coach above us. My task is everything what concerns functional training. One needs to understand that in biathlon everything goes in complex, as it combines two sports – shooting and skiing. The coaching staff should take this into account while composing a training program.
Did you follow the Russian team's performance last season?
Of course, it is a coach's task to investigate competitors. I always knew who would run which leg of the relay in your team at the world cups or world championships. Coaches should know the strongest and weakest points of competitors to correct training process.
Why did you leave the USSR in 1990?
The USSR used to help friendly states with specialists. Belorussia had an agreement with Slovenia, it was a part of Yugoslavia that time. To say the truth, I did not really want to move, but the agreement was already signed. We had a contract for two years, including the Olympic Games in Albertville. I moved there at the same time when the war started. I did not plan to stay there for a long time, but then winter and summer Olympic Games were separated. They persuaded me to stay until 1994, Lillehammer. Then I simply got used to it, and we had results in biathlon. I got Slovenian citizenship and stayed there.
Are there any sportsmen that you trained in the modern team of Slovenia?
I worked with Teja Gregorin. There are also my sportsmen in Slovenian cross-country skiing team – Vesna Fabian and Katja Visnar.
Why did you decide to leave biathlon and train skiers?
By that moment, biathlon training became quite monotonous. And in skiing there are different disciplines – classic, decathlon, sprint; the other training methodology is needed. The last two Olympic cycles gave me a lot, helped me in terms of methodology of training process. It will not be exaggeration to say I revised my views on training process. Of course, this experience in skiing helped me a lot, and these positive aspects are clearly visible in my work with the Ukrainian team.
The Ukrainian sportsmen liked such approach. In all interviews, they told they liked your training.
Yes, it was interesting for them. To say the truth, in the beginning they were crying at nights. Training loads were not very large, but we performed many specific exercises, which require a lot of time. At first, nothing worked out; the girls were worried. But after two months we noticed some progress.
You trained both men and women. Who is more interesting to work with?
I do not feel that kind of difference. There are pluses and minuses in both groups. In the end, it all depends on personality. If person is set up for work, then everything works out. The work is more concrete with men's team. With women, you always need to reach compromise. You need to take into account psychological features, find common language, push in some moments, or ease pressure in others. If you work with national team, then you aim for the highest result. The full trust is needed. No communication – no success.
The main goal of the season is the Olympic Games. Last season one of the world cups took place in Sochi. Did Ukrainian athletes liked the Olympic track?
Not everything happened the way we wanted. Thanks to the regional IBU cup, that took place several months before, we got to know all the features of relief. There is a short acceleration before the first long climb. When we arrived to Sochi we only had two days before the start of the races. We tried to climb the first uphill varying speed to choose the right starting speed. The important thing was to choose the right pace for the first segment of the course.
The climate is unusual in Sochi, it is damp. This climate is opposite to Alps. Marine climate influences a respiratory system more, and everyone reacts differently to it. However, it is too early to make any conclusions, as we spent only five days there.
I also want to stress, that mountain skiing preparation will be extremely important in Sochi. Those sportsmen who feel confident on downhills will dominate. On the slopes, it is possible to gain high speed, as they are all long in Sochi. On uphill it is impossible to win back the time lost on downhill.
Do you realize how popular biathlon is in Russia? Are you ready for that pressure you will get from the public, fans and media in Olympic season?
I do realize, as I read a lot about biathlon on the Internet. There are both positive and negative comments. One should not take everything close to heart. It is important to analyze the work done and draw conclusions. If something goes wrong, it is important to search for a reason.
You left Russia so long ago, that you probably consider yourself a coach with European mentality.
Soviet coaching model is diktat. Here people say that there is no place for compromises in sport, but sometimes it is impossible to avoid them. Of course, coach should not bot to the wishes of sportsmen, but he or she needs to consider their opinion. I used to be like everybody else, pushed hard and did not listen. In Slovenia we had the situation, when there are only few sportsmen in the national team. There were no other sportsmen behind them, and I needed to save all of them and value each of them. In that situation, I had to change my approach and views. You change your way of thinking. I can find common language with many sportsmen, and I do it. One needs to receive new information constantly, to improve methods, techniques, to learn things.
How many foreign languages do you speak?
Three Yugoslavian – Slovenian, Croatian, Serbian, and also German. Of course, it helps in my job. I have never thought of staying in Slovenia, and never learnt language on purpose. I simply talked to people and it came in natural way.
You left biathlon for cross-country skiing, raised champions, but eventually came back to biathlon. Why?
I started in biathlon and want to finish my carrier in it. I cannot say for sure, but I think that the Games in Sochi will be my last Olympics. It is time to finish with coaching. You know, the past several years were very busy. There is a sea in Slovenia, but I hardly spend 2–3 days a year on the seacoast, even taking into account the fact that it is only 1.5 hours from my home. I have no time for anything except for my job. Of course, I need a break. Perhaps later I will work as consultant.
What is your goal with the Russian team?
To build a good contact with sportsmen. Only when there are mutual understanding and trust, you can set the highest goals. There are no doubts, that we will bring something new to the team. To tell you something definite about medals… we never say anything about it.