Unbeatable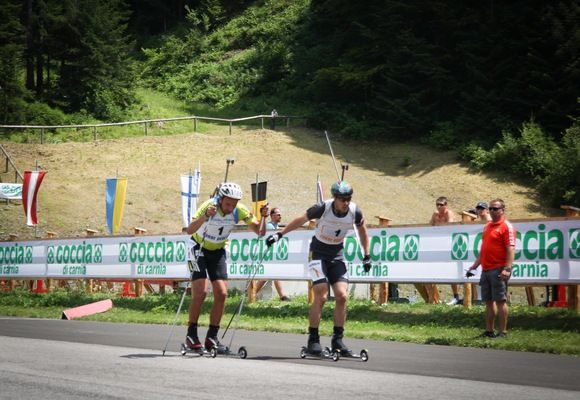 Summer Biathlon World Championships started yesterday with two Gold medals for Russia, won in both the junior and senior mixed relay competitions. Three years without defeats in mixed relays, heroism of Andrey Prokunin, amazing juniors are in the photos story of Biathlonrus.com from Forni Avoltri.
News of the day — Russian team won two gold medals at the summer world championship in Forni Avoltri
The Russian team opened the summer championship with two gold medals. Alexandra Alikina, Olga Shesterikova, Alexander Shreider, and Andrey Prokunin won the senior race, while the team of Natalia Shalaeva, Kristina Ilchenko, Igor Proshchenko, and Anton Svotin was the best among juniors. Well done!
Hero of the day – Andrey Prokunin
Alexander Shreider did a great job, winning back 1,5 minutes from his competitor from Italy. However, we will name Andrey Prokunin as a hero of the day. He pulled the team up to the first place. After the finish, Andrey needed a long time to recover. Doctor and teammates helped him to return to normal faster.
Positive of the day – performance of the Russian junior team
After the first half of the race, the Russian junior girls were only behind the senior team of Italy. After such a performance of Natalia Shalaeva and Kristina Ilchenko, announcer at the stadium kept shouting "Sensazionale!" At the finish, our junior athletes won more than a minute over their nearest competitors.
Comment of the day – Andrey Prokunin: "My task was to reach the Italian sportsmen before the first shooting"
Andrey Prokunin emotionally commented on the victory: "This victory was a hard one to get! The girls and Shreider did a great job. We demonstrated that Russia is one of the strongest now. Perhaps, some people would say the competition is not strong enough. But this is the problem of other countries, not ours. We are the world champions! I am really happy and congratulate everyone".
Figure of the day – 3
This is the third year in a row, when the Russian team wins senior and junior mixed relays at the summer world championships. In 2011, Galina Nechkasova, Olga Abramova, Anton Shipulin, Dmitry Yaroshenko became champions among seniors, while Olga Galich, Olga Podchufarova, Nikolay Yakushov, and Dmitry Dyuzhev led in the junior race. At the WCH-2012 in Ufa, the Gold went to Svetlana Sleptsova, Olga Zaitseva, Alexey Volkov, Anton Shipulin, Olga Podchufarova, Olga Kalina, Alexey Kornev, and Anton Babikov.
Photo of the day – winners from Russia
Two teams, two gold medals, two photos of the day.