Anna Bulygina: "The most important thing for me now is to sort out my conditions"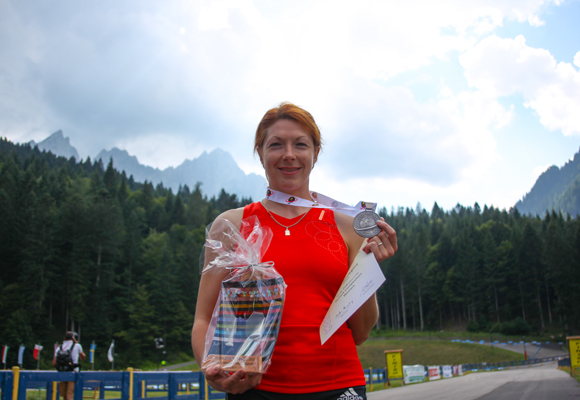 The IBU Summer Biathlon World championships completed yesterday in Forni Avoltri. At the championships, the Russian team won two Gold, one Silver and two Bronze medals. Anna Bulygina got the final medal, placing second in the pursuit race. In the Russian team's blog, Anna talks about a pleasant bonus in Forni Avoltri, her recent wedding and training with Leonid Guriev.
«This silver medal of the summer championships became a nice bonus for me. One needs to understand, there was no keen competition in the pursuit, as Italian girls did not participate. It is hard to call this medal a motivation for me; however, it is always a pleasure to win a medal.
Overall, it was hard to run in Forni Avoltri. It was difficult all these days, starting from the trial training session and until the last race. I hoped that it would become easier from race to race, but it did not happen. It was hard to run in both sprint and pursuit. I had to stand it starting from the first lap.
I am glad I had no mistakes at the last shooting. To say the truth, I simply used my old proven way – when you through away all thoughts and do not hope for anything. You come to the shooting range and shoot unthinkingly; this often works for me. At this last shooting in the pursuit, I did the same thing. I knew I had nothing to lose – and I did manage to shoot five out of five.
You probably have already heard that I got married several weeks ago. The wedding was modest and short. It happened during our training camp, and I asked for two days' leave. I did not have a honeymoon after the wedding. I needed to go here, to Italy for the training camp and the championships. So, my honeymoon is happening here in Forni Avoltri, and my husband spends it in Oberhof. He works as a serviceman of the Russian skiing team. And of course, we met each other at work :)
On one of the days off, we had a chance to go to Venice. It only takes several hours to get there from Forni Avoltri. The girls from the team used this opportunity, and I decided to stay in the hotel to get some rest. I have already been to Venice twice.
Perhaps, the question about my goals for a season became a stock question in past several years. Of course, I have a goal to be in the national team. However, the most important thing for me now is to sort out my conditions. I need to acquire proper conditions. It concerns both physical and shooting forms. If I manage to do it, then I can set up major goals. The trial starts with the national team will take place in August-September.
This off-season I train with Leonid Guriev. I would say we do the work to which I am accustomed. I have trained for several years with him. There is nothing new to expect, and frankly, I am happy about it. In the last several years, I have seen so many surprises and experiments. This option is good for me. I even can say that in this particular moment I am almost happy.»