Until February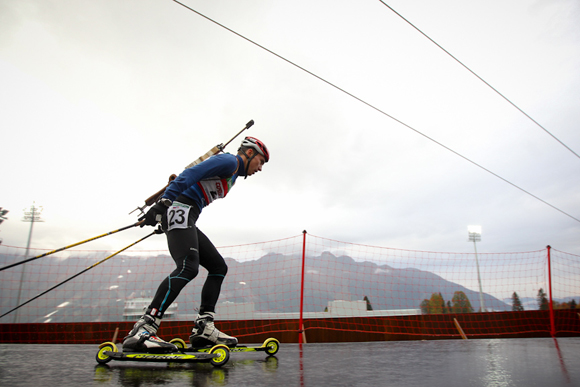 Another training camp and tournament are over, and Russian biathletes leave ski and biathlon center "Laura" to come back here in February for the Olympic Games. In the final photo report from September Sochi, Biathlonrus.com talks about a convincing victory of Ivan Tcherezov, confident shooting of Alexey Volkov and fearlessness of Maxim Tsvetkov.
News of the day – the Summer Biathlon Russian Championships and Cup is over
Men's individual race was the last points in the program of the tournament in Sochi, which took place at the "Laura" cross-country ski and biathlon center. Biathletes competed in four races. Irina Starykh took gold medals in both sprint and individual race among women. Sergey Bocharnikov was the best in the men's sprint, while Ivan Tcherezov won the men's individual race. Now, "Laura" says goodbye to biathlon until February and the Olympic Games:)
Hero of the day – Ivan Tcherezov
Beyond doubt, the winner of individual race Ivan Tcherezov is a hero of the day. After the race, Ivan admitted, that in the past he considered summer starts as unimportant competitions. Now he became more serious about them.
Speed of the day – Ivan Tcherezov
Ivan won the race because of the highest speed he showed in the race. Even two misses in shooting did not prevent him from finishing first.
Accuracy of the day – Alexey Volkov
There were no biathletes with clean shooting in the race. Maxim Tsvetkov, Alexey Volkov, and Sergey Balandin made one mistake each. However, Volkov was the fastest shooter.
Losses of the day – Dmitry Malyshko, Alexander Loginov, Anton Shipulin
Dmitry Malyshko and Alexander Loginov missed the race due to health conditions. Dmitry has not fully recovered from poisoning. Alexander got cold, which is not surprising, as this September, it is unusually cold in the mountains. Anton Shipulin could not finish the race.
Comment of the day – Maxim Tsvetkov: "I have already forgotten that fall that happened in winter"
After a terrible fall in March that happened to Maxim during the pre-Olympic week, the journalists often ask him about fear of the track in Sochi. After testing the track in competition mode, Maxim is sure there are no problems left. The track has been slightly changed, donwhills became safer. Now I know the right way to pass them," commented Maxim after the race. Way to go, Max:)
Photo of the day
Russian team leaves Sochi, but only for several months. See you in February!