Warming up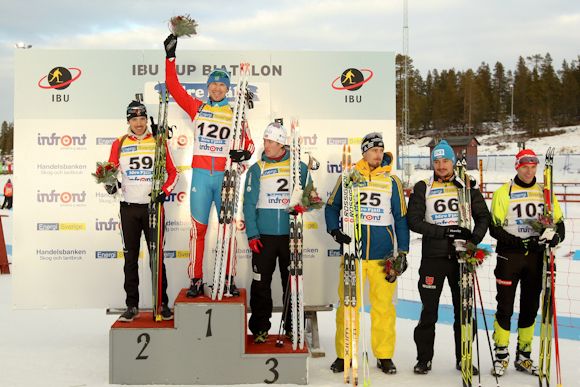 While the biathlon society counts down the hours before the start of the first World Cup, some athletes have already opened the season at the IBU Cup. This warm up brought nice news to the Russian team – Timofey Lapshin celebrated the victory in the men's sprint. Confident shooting, joy of the winner and his coach, super speed of Slepov, and November sun of Sweden are in our photo report.
Hero of the day – Timofey Lapshin
Coming to Idre after trial starts in Ostersund, where shooting failed him, Lapshin shot clean in both shootings of the sprint and had a convincing victory. After finish, Timofey promised to not stop at the result achieved and continue making fans happy with his performance.
Heroine of the day – Weronika Novakowska-Ziemniak
Polish athlete, who started under the 28th number, was fast on the track and had no mistakes in shooting. Long before the race's finish it was determined who would win. Other participants had to fight for the second and below places.
Speed of the day – Alexey Slepov
Russian biathlete had a space velocity on the race, but four missed pulled him back to the 27th place.
Accuracy of the day – Timofey Lapshin
After the finish Lapshin said, he won because of the clean shooting. After dealing with nerves, that prevented him from showing good performance at the trial starts, he had a 100% result in Idre.
Comment of the day – Alexander Kasperovich: "The task of Lapshin was to have a right tactic on track"
"In the first race in Idre his task was to have a right tactic on track. We did not care about his bib number, as today the conditions were equal for everyone. He needed to overcome pshychological pressure, as he saw how other athletes shot and competed."
Photo of the day
Bright November sun of Sweden lit up the race of Valentina Nazarova, the best Russian athlete in the women's race. Unfortunately, she could not finish in the top-10, as she fell down at the finish lap.