Gaining experience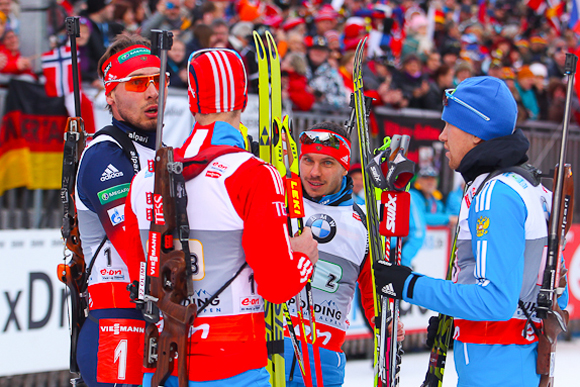 Second race in Ruhpolding and second medal of the Russian team. This time – Bronze in the men's relay. Austrian biathletes celebrated the victory in the race, while hosts of the tournament took Silver. Fast Malyshko, concentrated Volkov, smiling Neuner and philosophical Shipulin are in the photo story of Biathlonrus.com from Ruhpolding.
News of the day – Russian men's team placed third in the relay in Ruhpolding
Russian men's team consisting of Alexey Volkov, Evgeny Ustyugov, Dmitry Malyshko and Anton Shipulin placed third in the relay, losing to the teams of Austria and Germany. The boys shot with seven extra bullets. Russian team had the fifth speed on the track.
Hero of the day – Dominik Landertinger
The issue of the winning nation was solved in the fight at the finish. Anton Shipulin, Somin Schempp and Dominik Landertinger fought for the prizes at the fourth leg. The Austrian athlete chose the right tactic and took over the German athlete at the last meters.
Speed of the day – German team and Dmitry Malyshko
Silver medalists of the relay had the best skiing speed of the day.
Dmitry Malyshko had the best speed of the third leg.
Shooting of the day – the team of the Czech Republic and Alexey Volkov
No one could compare to the Czech biathletes, who used only two additional bullets for the whole team in the race.
Alexey Volkov was the best in shooting in our team. He was the fastest among accurate shooters at the prone shooting, and used only one extra bullet at the standing shooting. "If I shoot 5 out of 6, then I will spend around 25 seconds — others need this time to make 5 shots," calculated Volkov after the finish.
Comment of the day – Anton Shipulin: "I will correct mistakes and become angrier"
"I could not fight for the first place at the finish — this is an experience for me. I only ran the last leg three-four times. I lack some experience here. I made a tactical mistake today. There was a moment, when my competitors overran my and I did not follow their tempo. This was a decisive moment of the race. They ran away and I could not chase them. I think I will be wiser next time and will not repeat such mistake in the next races," commented Anton on the race.
Guest of the day – Magdalena Neuner
Beautiful Magdalena Neuner, who prepares to become mother soon, visited the men's relay and greeted the German team with Silver. As you see, Magdalena's smile is still radiant!
Photo of the day
The relay was unlucky for Norwegian team – the squad took unusual for it 9th place. However, Tarjei Boe flying over the track turned this photo into one masterpiece.
Fan of the day
Our famous basketball player Sergey Panov spent almost the whole race in the coaches' stand, emotionally supporting the Russian team. Now Sergey Yurievich likes biathlon.