Zeroing. Antholz-Anterselva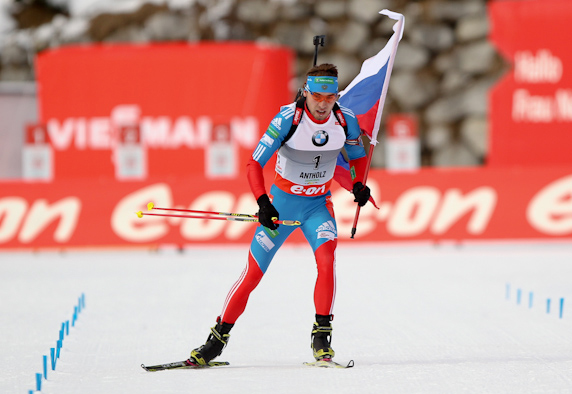 Big biathlon moves to Anterselva for the last World Cup before the Olympic Games. Reach history of Italian place, ideal track for Anton Shipulin, Russian advantage in this Olympic cycle and six debutants of the Russian team – these and other interesting facts in a new preview from Biathlonrus.com.
Anterselva – first World Cup
History of modern World Cup takes its roots from 1978. That was the year when biathlon not only switched to small-bore rifles and automatic targets, but also got the official tournament in a form of world cup. The first World Cup consisted of the world championships and four world cups. Anterselva, Ruhpolding, Hochfilzen, Murmansk, and Sodankylaa were lucky to be the hosts of the debut tournament.
5 world championships and 35 world cups
The first grand biathlon start happened in Anterselva in 1975 – the 14th biathlon world championships. Nikolay Kruglov senior was the hero of than championships winning tree medals in three races. Another four world championships (in 1976 only one race) and 35 world cup stages took place here from that time. In 2000, Anterselva hosted four cups, three of them in December, substituting for Hochfilzen, Pokljuka, and Osrblie.
Number six in modern calendar
In the last year, Anterselva took its place under the number six in World Cup's calendar. Only one time in a new century, this stage moved to another place – in 2007, Pokljuka got the World Cup, since Antholz was preparing to host the world championships in February.
Ages
239 biathletes (115 women and 124 men) from 32 countries gathered a year ago in Anterselva. The average age of the athletes was about 27. There were more experienced men than women (born earlier than in 1983) that ran races in Antholz — 28% against 20%. And the men who made it to the podium were on average younger than women (27 against 28).
Russian advantage in a new Olympic cycle
In the last three years, Russian athletes visited podium in personal races more often than other nations: 7 times (6 men and 1 women). Norway has 5 podiums (3–2), Germany – 4 (2–2), Belarus – 4 (0–4) and France – 4 (3–1).
Men's team: five podiums of Shipulin in 8 races
Eight Russian athletes will participate in the World Cup in Antholz. Ivan Tcherezov is the most experienced among them – he started in Anterselva 15 times. Andrey Makoveev had 11 races, Anton Shipulin – 8, Evgeny Garanichev – 8, Alexey Slepov – 1. Maxim Tsvetkov and Timofey Lapshin perhaps will have their debut races here. Anton Shipulin is the best in the team in terms of personal podiums taken in Italy. He has five medals, three of which are gold. Ivan Tcherezov and Evgeny Garanichev also were on podium here.
Women's team: three debutants and one podium of Zaitseva
There are three possible debutants of the World Cup in Anterselva in the Russian women's team: Irina Starykh, Galina Nechkasova and Ekaterina Shumilova. Ekaterina Glazryina ran one race here, Anastasia Zagoruiko – 2, Olga Vilukhina – 4, Yana Romanova – 9. And only Olga Zaitseva had 18 races and one podium here – third place of the sprint in 2011.
Wars of speed
Men
For two years in a row, Russian men were the fastest on track. The French team was second, Norwegians – third. The high density of the graph from 2009 and 2011 and split graphs of the last years are what differs this world cup. Will the Russian team keep its leadership this year – we will see in sprint and pursuit.
Women
There is something similar in the graphs of Norwegian and Russian teams in the last years – nice cup in 2011, poor performance of 2010 and 2012, and then the graphs went in different directions. The Norwegians – down, meaning, that the team is speeding up, and the Russians – sharply to the north.
Graphs display the dynamic of average loss of the team (4 best athletes of every team) to the fastest skier in seconds per one kilometer at the third World Cup in the last 10 years.
Schedule (GMT+1)
January 16, 14:30 – спринт, женщины
January 17, 14:50 – спринт, мужчины
January 18, 11:45 – гонка преследования, женщины
January 18, 14:30 – гонка преследования, мужчины
January 19, 11:15 – эстафета, женщины
January 19, 14:15 – эстафета, мужчины