Our Yana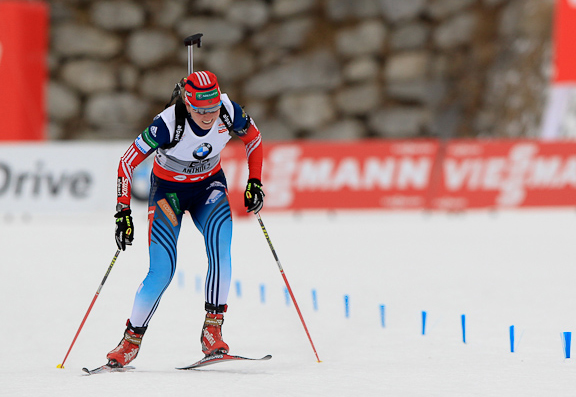 Russia's Yana Romanova placed fifth in the sprint race at the World Cup in Anterselva. Perfect shooting of Yana, first personal victory of France's Bescond, speed of Domracheva, and beautiful Italian forest are in the photo report of Biathlonrus.com.
News of the day – Yana Romanova placed fifth in sprint at the World Cup in Antholz
Romanova placed fifth in the race, having the best result in the last two seasons. Last year was unlucky for Yana because of the illness. "Last two years were quite difficult and unlucky for me. Of course, today I am happy. This race turns out to be my best race in the last two years," commented Yana after the finish.
Victory of the day – Anais Bescond
France's Anais Bescond missed once and was the best in the sprint. Before that, Bescond had no podiums in personal races at the World Cup's level. Andrea Henkel of Germany with one miss placed second, Daria Domracheva of Belarus missed twice and also made it to the podium.
Misfortune of the day – Fall of Ekaterina Glazyrina
Katya fell down twice on Italian track, and broke the rifle stock. Let's wish Katya to get back to normal as soon as possible!
Shooting of the day – Yana Romanova
Romanova shot clean in the sprint and had 7th shooting time. The faster shooters, including Olga Vilukhina (5th time), were not that accurate as Yana today.
Speed of the day – Daria Domracheva
Belorussian biathlete Daria Domracheva had the best racing time, winning over the closest competitor Anais Bescond 9,3 seconds. Irina Starykh was the fastest among Russians, losing 25,8 seconds to Domracheva.
Comment of the day – Wolfgang Pichler: "Romanova is the real fighter. She trains and never cries"
German coach said after the race that she always believed in Yana.
Fans of the day
Hats of the German fans are covered with different flags. Biathlon Family!
Photo of the day – Snowy forest
That is how our photographer saw the Tyrolean forest.