Approaching the podium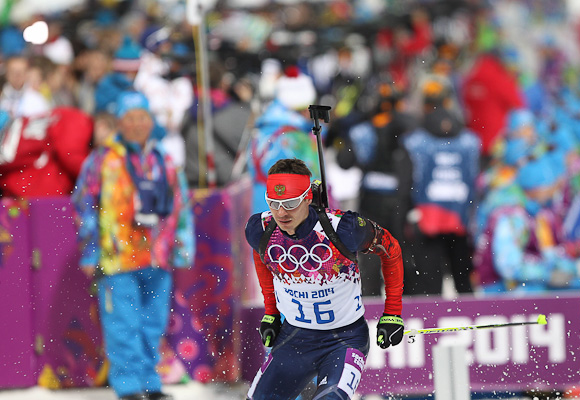 Russia's Evgeny Ustyugov placed fifth in the pursuit at the Olympic Games in Sochi. Russian biathletes approaching the Olympic podium, Martin Fourcade celebrating his victory at the shooting range, Olga Vilukhina with her Olympic Silver and other vivid photos from the men's pursuit in Sochi in the photo story at Biathlonrus.com.
News of the day – Russia's Evgeny Ustyugov placed fifth in the pursuit at the Olympic Games in Sochi
Russia's Evgeny Ustyugov climbed up to the fifth place in the pursuit, starting the race 16th. With better position after the sprint, he would be able to fight for the medals in the pursuit. After the fourth shooting, Evgeny tried to win back his lag from the third place, but Jean Guillaume Beatrix was too far, 12 seconds away from the Russian athletes. "It was much easier in pursuit than in sprint," said Ustyugov after the race.
Anton Shipulin made three misses and was pulled back to the 14th place from the 4th starting position. Evgeny Garanichev's race was luckier. If we take the plane time of the pursuit, he was third in the race. It is a shame, that Garanichev was only 27th in the sprint. Dmitry Malyshko placed 33rd in the pursuit and after the finish suggested he would have to miss individual race to prepare for mass start better.
Hero of the day – Martin Fourcade
The French athlete approved his status of one of the favourites, proving, that his sixth place in sprint was a misfortune. Martin started to celebrate his first Olympic victory already at the shooting range after the fourth shooting.
Speed of the day – Fredrik Lindstrom
Sweden's Fredrik Lindstrom had the best skiing time in the race. Evgeny Garanichev was the best among Russians with the 9th time (+22,2), Evgeny Ustyugov – 11th (+25,4).
Shooting of the day – Ondrej Moravec and Christoph Sumann
Only two biathletes managed to shoot clean in the race – Moravec of the Czech Republic and Sumann of Austria. Clean shooting brought Silver to Moravec, while Summan moved from the 20th place to the 12th.
Photo of the day – Olga Vilukhina got her Silver of the Olympics
Fan of the day – Colourful fan of the Russian team from Biysk