One for all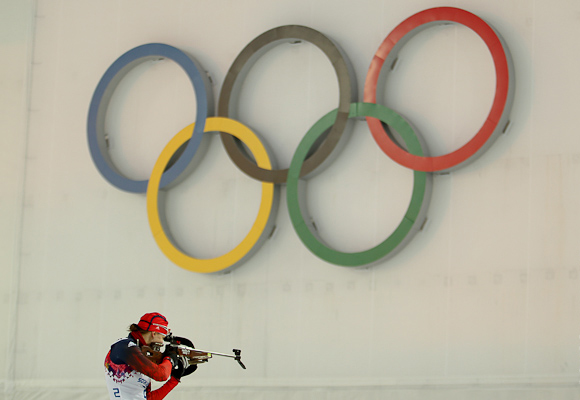 After the four Olympic races, the Russian team has one silver medal of the women's sprint. In the pursuit, medalist of the Games Olga Vilukhina placed seventh. Belarus' Daria Domracheva won Gold. Renewed pedestal, Vilukhina after minor illness, perfect shooting of Zaitseva, and Sleptsova supporting her teammates are in the photo story at Biathlonrus.com.
News of the day – Olga Vilukhina placed seventh in the pursuit at the Olympic Games in Sochi
Winners of the sprint race got no medals in the pursuit. Champion of the race Anastasia Kuzmina placed sixth, silver medalist Olga Vilukhina – seventh, bronze medalist Vita Semerenko – tenth. In the pursuit, Vilukhina missed once, and with the clean shooting she could fight for the medals. Olga Zaitseva had a much better performance in the pursuit than in the sprint – jump from the 28th place up to 11th proves it.
Hero of the day – Daria Domracheva
Daria Domracheva of Belarus won the Gold of the pursuit – this is the first Olympic Gold in her carrier. Norway's Tora Berger won Silver, Slovenia's Teja Gregorin – Bronze.
Speed of the day – Kaisa Makarainen
Finland's Kaisa Makarainen had the best speed of the day. She outran Domracheva by 2,5 seconds, who spent some time to finish with the flag. Gabriela Soukalova of the Czech Republic had a third time of the day.
Shooting of the day – Olga Zaitseva
Three biathletes shot clean in the race: Ann-Kristin Flatland, Olga Zaitseva and Elena Khrustaleva. The Russian athletes shot faster than other clean shooters. Let's remember this fact on the eve of individual race. Olga Vilukhina had second time in shooting, but made one miss.
Breakthrough of the day – Gabriela Soukalova
The Czech athlete improved her 29th starting position to the 4th at the finish. Without one miss at the last shooting, she could win third medal for the Czech Republic in biathlon.
Comment of the day – Viktor Maigurov: "Olga Vilukhina had a minor illness before the race"
The RBU vice-president for sports summarized the results of the pursuit and said that Tuesday was not the Russian day on Laura: "We supported also our skiers. I was very upset with the fall of Sergey Ustyugov in the skiing sprint. He looked so well in qualification and was so unlucky in the final."
Photo of the day – Ekaterina Shumilova
Our photographer caught Ekaterina Shumilova after drinking.
Fan of the day – Svetlana Sleptsova
The Olympic champion came to the biathlon race to support her friends.