Only together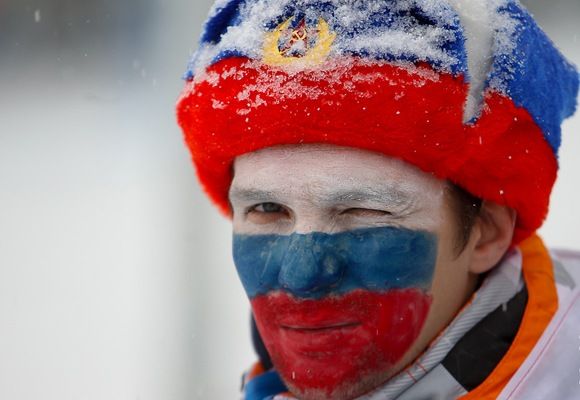 Summarizing the results of the personal race at the Olympic Games in Sochi, Biathlonrus.com analyzes the men's mass start and comes into conclusions that our athletes should fight for the gold Olympic medals together in the upcoming three relays. Only together we can win!
News of the day – Russia's Evgeny Garanichev placed fifth in the mass start at the Olympic Games in Sochi
Start of the men's mass start was postponed several times because of the fog, but the race finally took place on Tuesday. After unsuccessful races Emil Hegle Svendsen complained about his mistakes in training and blunders of the service team, but everything worked out in the mass start and he won. Photo finish sent two-time Olympic champion Martin Fourcade to the second place. Bronze medalist of the individual race Evgeny Garanichev was the best among the Russians, placing fifth in the mass start.
Russian athletes took two medals in personal races – Bronze of Garanichev in individual race and Silver of Vilukhina in sprint. Misses, falls and other illnesses should be left in the past – only together our athletes can fight for the Gold in the upcoming races.
Speed of the day – Martin Fourcade
France's Martin Fouraced was the fastest on the track. Jakov Fak of Slovenia had the second time (+9,2), and Russia's Evgeny Garanichev – third (+14,6). Winner of the race Emil Hegle Svendsen lost to Martin in skiing 28,7 seconds.
Shooting of the day – Emil Hegle Svendsen
Only Norway's Emil Hegle Svendsen and Ondrej Moravec of the Czech Republic shot clean in the race. Svendsen had the fourth shooting time (+6,2), losing to Austria's Simon Eder and two Russian athletes – Evgeny Garanichev (+3,3) and Anton Shipulin (+4,7).
Comment of the day – Anton Shipulin: "I will mobilize my strengths in the relays"
Let's wish Anton and all our athletes to summon their strengths. Olga Vilukhina, Olga Zaitseva, Evgeny Garanichev and Anton Shipulin will fight for the team in the mixed relay. "I personally believe in Anton. I think that he should run the last leg," said the head coach of the Russian men's team Nikolay Lopukhov.
Misfortune of the day – Fall of Ustyugov
"I fell down on the first lap. The athlete who was running in front of me started to break down and created the whole snowdrift. My ski got there and I fell down. While flying I was expecting someone to hit me with the skis," commented Evgeny Ustyugov after the race.
Photo of the day
This photo illustrates what conditions accompanied the race, athletes and supporters.
Fans of the day
Our fans made biathlon targets from snow. Five out of five :)