Dearer than Gold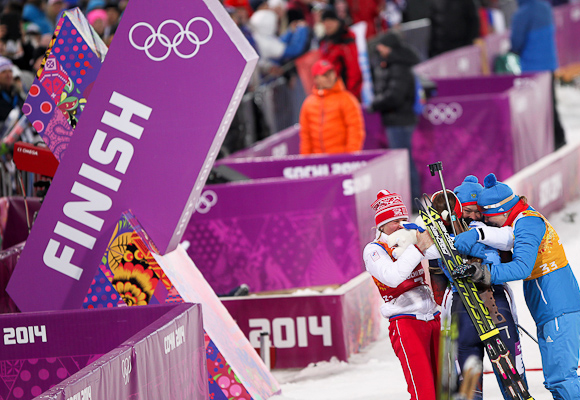 Russian biathletes Yana Romanova, Olga Zaitseva, Ekaterina Shumilova and Olga Vilukhina won Silver of the relay at the Olympic Games in Sochi. Ukraine took Gold, Norway – Bronze. Russians on the pedestal despite all difficulties, Ukrainians devoting Gold to their country, and words of Olga Vilukhina are in photo story of Biathlonrus.com.
News of the day – Russian team won Silver in the women's relay at the Olympic Games in Sochi
Russian girls managed to win Silver despite of all difficulties in the previous races. Unfortunate falls and misses are behind. Yana Romanova, Ekaterina Shumilova, Olga Zaitseva and Olga Vilukhina are real heroes of the day for us. Each of these athletes did her best on the track, spending all her strengths.
Memory of the day – Minute of silence
At the press conference after the race Ukraine's Olena Pidhrushna asked everyone to honor all the people who died in Ukraine in the recent events in a minute of silence.
Speed of the day – The team of the Czech Republic
Czech biathletes had the best skiing speed. Their followers from Ukraine lost 9,5 seconds. Gabriela Soukalova contributed the most, winning 38,2 seconds on her leg.
Shooting of the day – Russian team
Russian biathletes closed targets with the minimal amount of additional bullets. Russian ladies needed only four recharges for 40 targets. Russian team also had the best shooting time. Ukrainian team, who had the second shooting time, lost 32 seconds.
Misfortune of the day – The teams of France and Germany
French and German biathletes stopped fighting for medals already at the first leg of the race. Marie Lauret Brunet withdrew from the race virtually, and Franziska Preuss – conventionally. The French athlete had a sugar shortage in her blood, while the German biathlete had a fall, which influenced her shooting.
Comment of the day – Olga Vilukhina: "This Silver is like Gold for us"
Indeed, Olga!
Fan of the day
Japanese fan supported his team even despite their 13th place at the finish.
Photo of the day – Our girls on the pedestal
Only photo with medals can be better than this one.