Sergey Konovalov: "We will try to give more chances to our young athletes"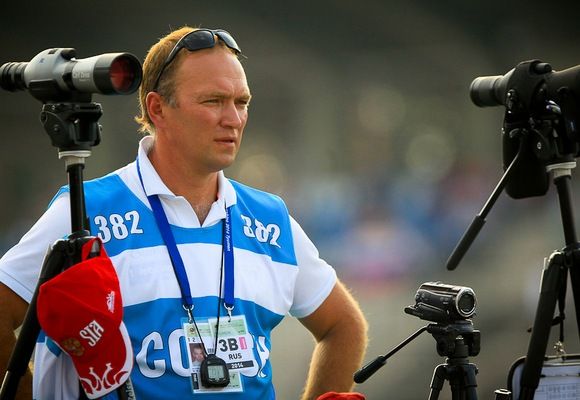 On 20th May the group of Sergey Konovalov started their training camp in Belokurikha. Andrey Anosov, the reporter of RBU website Biathlonrus.com, talked to a new senior coach of a women's biathlon team about rejuvenation of the team, his own way in the career and creation a new team.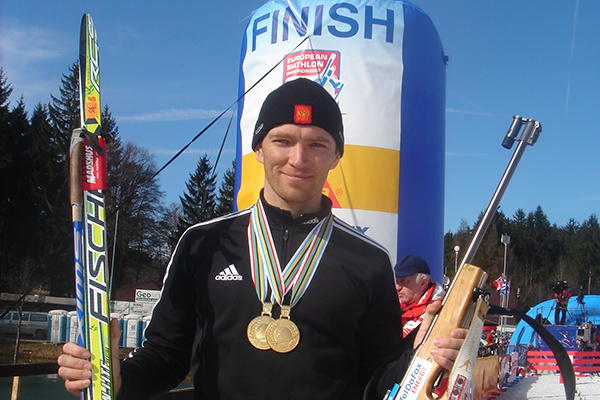 -Sergey, do you remember your first steps as a coach?
-I finished career of an athlete in a 2008.I tool 2 medals from Europe Championship in Nove Mesto in pursuit and relay. After that took a part in Russian competitions in Tyumen for the last time. I sat down and felt the devastation, although I have already received an offer to work as a coach in the youth team. We talked with the leadership of RBU and after a month I began to work as a coach. My goal was to be like a biathlete and I carried out 50–60 per cent of any load.
-Did you have any alternatives after finishing the career?
-The opinion of my family was very important for me. My wife told to me after the wedding that I could run as biathlete, but she didn't see me as a coach. So we had an offer that I will try to work as a coach for one year and them we will see. We had really good results- Victor Vasilyev became the European Champion in Ufa. I didn't feel any troubles on the way from athlete to a coach.
-You had a chance to work with Alexander Kurakin in the youth team and with Anatoly Khovantsev, Andrey Gerbulov, Nikolay Lopukhov and Vladimir Korolkevitch in the main team. All this specialists are famous, but so different…
-I am very happy person because I have an opportunity to work with such coaches. I am very thankful and grateful to all my mentors. From each of them I took a great experience and knowledge base.
-If you had an opportunity to take only one best quality from each specialist you had to work with, what will you choose?
-Alexander Kurakin has a unique pedagogical approach. He knows how to covertly take the athlete or coach to the right decision so that nobody will notice it. Anatoly Khovantsev was very calm im each situation in women's team. We also had hard times like in Khanty-Mansiysk and happy moments, when Olga Zaitseva won in the individual race. It was a big lesson for me.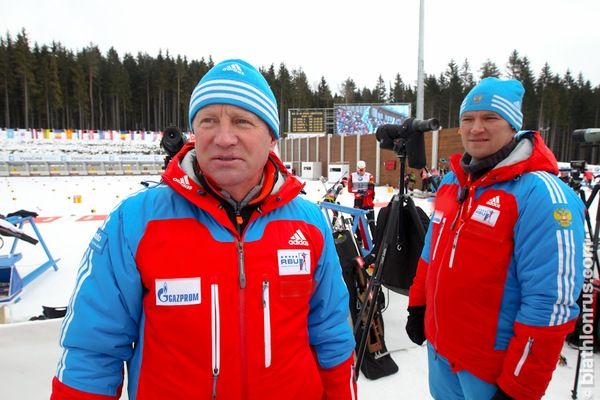 -You have started to work in men's team with Andrey Gerbulov from the season 2011/2012.
— Andrey Alexandrovich is a great shooting coach. His knowledge helps me a lot. He can correctly explain everything what he want. All athletes always respect him. Nobody would tell anything bad about him.
-Was it harder to communicate with Nikolay Lopukhov?
-Maybe he is the most complicated person I ever work with. At the same time he has a great experience. He feels situation very well. Lopukhov never stops with an education. He always reads books about training and had an eye on other teams training. I also want sometimes to be like him.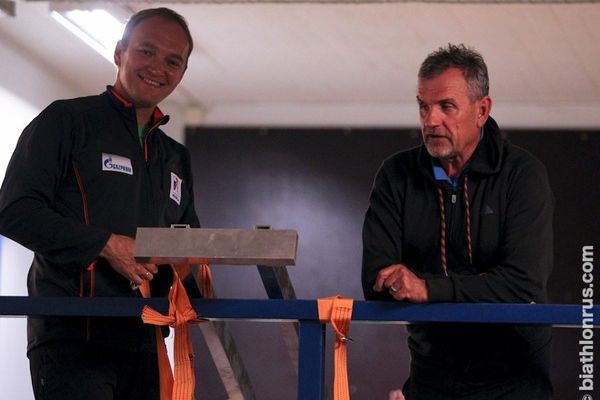 — Last season you worked with Korolkevich as a shooting coach in the women's team.
— I can speak a lot about him. He is like Gerbulov who could find great connection with a team. I think that it is harder to find understanding with women , than with men. But if you will get it, they will believe you forever.
-Do you see yourself more than shooting coach or functional training? Does this difference exist in the modern biathlon?
— I don't think so. Coach should know everything about training. I will work more on the shooting range, but I have to understand every aspect of the training process, too.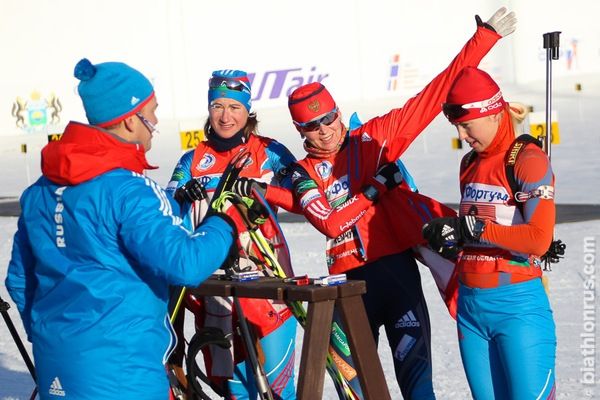 — How hard for you was decision to head the women's team?
— On my birthday one of the RBU director called me and asked if I want to be a head coach of the women's team. I answered: ''Of course I want. Like we are saying in Russia, every soldier wants to be a general''. Then I spoke with Sergey Efimov (he was a physical training coach last season) about potential job. He said: "Ok. We will work together to get a success". Efimov is very good in a physical and technical training. He is a big professional.
-There was very hard beginning of the season because only some of the girls had an experience in such competitions. However, the team was in a good condition at the beginning of the World Championship.
-Certainly it was hard to start season without two key biathletes- Olga Zaitseva and Olga Vilukhina. They both were our leaders for three last seasons. We tried to put our team in a right mood from the first training camp. Girls were focused on the work and the progress was very good. During the season we were good in individual competitions, but we had a lot of troubles with relays. . The main problem was on the fourth stage. But I think all our work that we made was correct. For example, Olga Podchufarova was very good in Oslo. Ekaterina Glazyrina will miss this season because if the pregnancy and Yana Romanova is going to train with her own coach… Maybe we will have problem on the first stage, nevertheless we will work on it.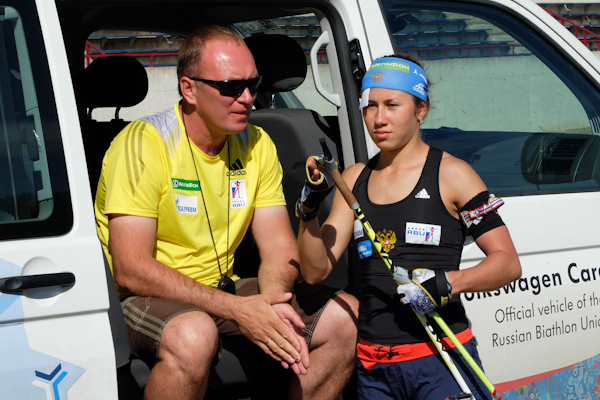 -The average age of your team is 24 years. Will you have key athletes in your team?
— Daria Virolaynen, Katya Shumilova and Olga Podchufarova should prove themselves in the next season. Katya Yurlova has a World Championships gold medal. She will train individually, but Yurlova definitely is a key biathlete.
We will try to give more chances to our young athletes, as much as possible. Uliana Kaisheva and Victoria Slivko have competed among juniors. At the same time we expect a lot from Anna Nikulina and Olga Yakushova.
-How will the work process looks like in a new team?
— All 12 athletes will work together in the team, but of course young girls will work less than our leaders. I hope that all athletes will take the best knowledge from coaching staff. Five coaches will work with the team: Sergey Efimov, Nikolay Zagurskiy, Pavel Lantsov and Alexey Trusov and I.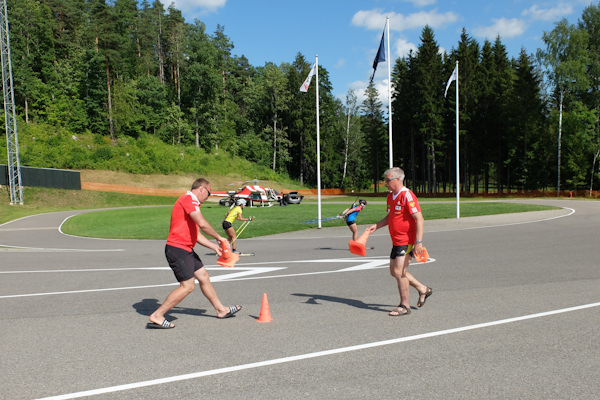 — Galina Nechkasova is not included in the team. Why?
This decision was really very hard for me. She has been training for three years in the team and doesn't have enough progress. We have decided that she needs to change the situation and to work with personal coach. She will have an opportunity to qualify in the main team in December.
-The most successful biathletes Ekaterina Yurlova and Olga Vilukhina will prepare for the season individually.
-We will know all about their trainings. I spoke with athlete's personal coaches and we understood each other very well.
-What are your plans for the first training camp in Belokurikha?
-Daria Virolaynen, Ekaterina Shumilova and Olga Podchufarova will miss the first camp in Belokurikha. Olga will graduate soon; Dasha and Katya will start to work with personal coaches because of healthy reasons. But all of them will come to our second camp in Raubichi. Belokuriha is a great place for rehabilitation and training: shooting, riding a bicycle, hiking… The real work is starting!